You don't need diamonds or pearls every time to make someone happy. Sudden simple acts of kindness can sometime do something which even some of the most costly gifts can't. (Learn how to connect with people)
After you complete reading this post do all these things mentioned below one by one without postponing for tomorrow. Continue doing these for 2-3 weeks. If you, as well as the people around you don't feel good, feel free to criticize me publicly. I will take it humbly.
Be the person that makes others feel special. Be known for your kindness and grace.
i) Get something for your parents on your way back home for no reason
If you have ever done this, you might have noticed that priceless smile in their faces. Today while coming back from office buy something for your parents. Starting from their favorite sweet dish, fruits to a simple dress or chocolates, it can be anything. But whatever you buy, buy from heart.
Here the idea is to let them know that they still exist in your mind and heart.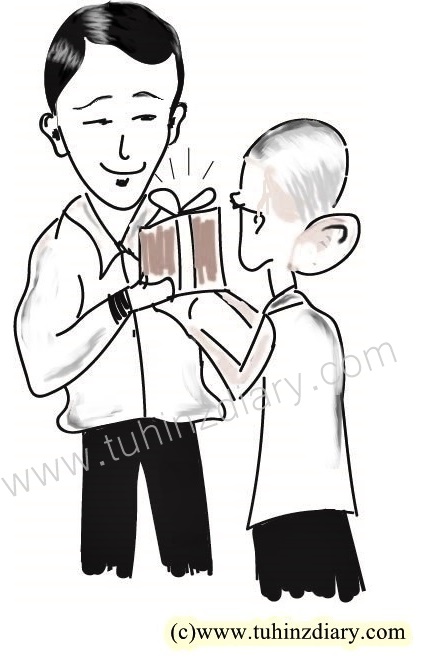 ii) Appreciate the sweeper at work
Start your day by making someone's day better. And since the sweeper or the peon would probably the last person in office to get any complements from anyone, it will be the kindest gesture to let them know how valuable their service and dedication is!
By doing this, you will give him something to ruminate for days and weeks and months to come.
Kindness makes you the most beautiful person in the world…irrespective of how you look like…
iii) Tell your wife how beautiful she looks!
When was the last time you complimented her?  Cannot recall? Bad…very bad! Make it a habit to find out reasons to compliment your partner at least once or twice a week.  This brings a lot of sweetness in the relationship. Never hesitate to appreciate the little things they do for you.
It is better to flirt with your partner than with your secretary.
iv) Call or message an old friend
Today's hectic schedule makes it difficult to be in touch with everyone every time. As a result we keep on losing important and good people in life, which is not a very wise thing to do.  Once you finish reading this post, take a look at your facebook friendlist, phone or whatsapp's  contact list and find out that good old friend who once used to be the part and parcel of your life; that friend with whom you have shared some of the best moments of your boyhood, but haven't spoken to in months or years! Message, or even better call them to let them know that they still are 'high' in your priority list.
This will revive your dying or already expired friendship.
                             Also read : Are you ruining your own happiness?
v) Fill a hungry stomach
Since you are reading this article, you are lucky! Lucky because at least you have a laptop or a smart phone, an internet connection, good education and plenty of good, nutritious food in your kitchen. But people around you are not so lucky. So try to fill at least one hungry stomach you find throughout the day. Be it a beggar, a poor guy, a stray dog or a homeless cat, feed everyone with love.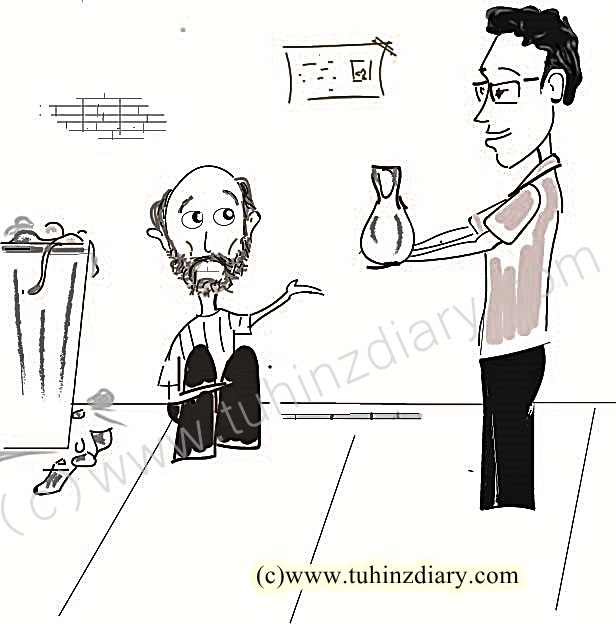 You will need a very small amount to feed a hungry stomach every day. The money which you would have wasted anyway can fill someone's stomach.
vi) Spend time with an aged person
Someday you will be old, weak and helpless too. Old age is tough! Along with an aching body, loneliness and feeling of being neglected hurts too. So spending time with an aged person is one of the best ways to earn some blessings. Once in a while, take out a few minutes from your hectic engagements to smile, laugh, sing or cry with an old neighbor, family member or even better someone from the nearby old age home.
This is the last phase of their life. Help them to make it better.
Try these acts once and let me know how you feel! These simple acts of kindness are actually the source of real happiness in life.
Be happy and make others happy.
Over to you
I am sure there are other interesting ways to spread love and kindness too. In case I have missed an important point, please feel free to mention it in the comment section.
(Visited 286 times, 1 visits today)