Right from the moment that 'irritating' alarm marks the beginning of a fresh new day we start the day's journey in a lightning pace without wasting a single minute. Starting from friends, partners, customers to boss and colleagues, we spend a good amount of our time with the people in our circle.
This is justified keeping in mind the social binding and nature of a human being and it is quite a normal thing to do. The abnormality however is when we forget to take care of the little soul which craves for our company, the one which we ignore the most; our own self.
Lost in the crowd?
Everyday amidst the hustle bustle of life we are constantly moving away from our own selves. While it is important to socialize with people, it is equally necessary to spend some time alone.  It is these lone hours that teach us to accept ourselves the way we are! Spending time alone has its own set of advantages. The major ones are listed below:
i) A chance to discover the self
In the course of life we constantly detach from the inner self. Take out some time to find out who you are. The more you spend time alone, the better you know about yourself.
ii) You start appreciating yourself
 When you learn the art to be happy in your own company, you start realizing your value. This is important for people who neglect or underestimate themselves. Unless we learn to respect ourselves we can never be a positive person.
"I think it is very healthy to spend some time alone. You need to know how to be alone and not defined by another person."

                                            -Oscar Wilde
iii) A healthy way to distress
And you thought only cigarettes and those nasty addictions are the only way to rejuvenate your exhausted cells! Huh…think again!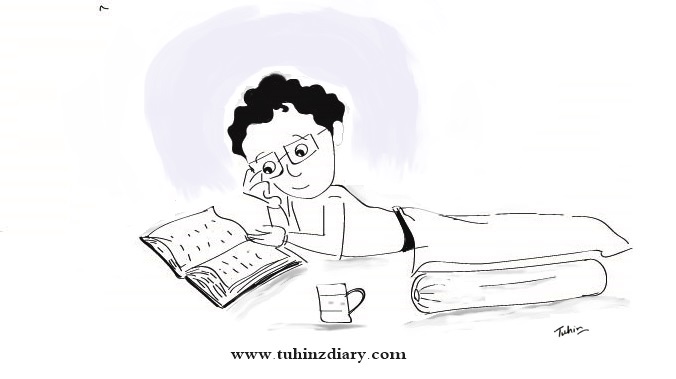 iv) Addressing the need
Some people by nature need some lone time to restart working with a fresh mind. This is their need. If you happen to have such individuals in your circle, DO NOT disturb them. They are more famously known as introverts.
v) A chance to rethink
When you sit quietly after a day's long hectic work, it gives you a chance to think deeply on issues and decisions which you took throughout the day or going to take in near future. And trust me this can save you from major heartaches and help in taking healthy decisions.
vi)You define your happiness
When you spend some quality time alone, you realize that you and only you are responsible for your happiness. You do not need any reason or event to become happy.
Sometimes be alone…not to be lonely…but to be with yourself…
Most of you may find it odd to cope up with this fact that spending time alone can actually rejuvenate the self. It is because you haven't tried it yet.  We often judge people on the basis of our thinking. Often we find it difficult to understand the psychological need of someone who says "I need to spend some time alone…" These people are tagged as selfish (who are concerned with their self), introverts (fear to face the world), awkward and so on. But this is not the case always.
If you turn the pages of history you should not be shocked to find that some of the best philosophers , writers, scientists and thinkers whose ideas have shaped the present world were the ones who preferred  to spend a good amount of time alone (P.S.– Mere spending time alone will not make you a scientist…you need some extra qualities as well. :P)
Please note that spending some time alone does not mean that you should cut relations with the outer world. We are social animal, and we cannot afford to do so, right? So the best way is to maintain a fine balance between these two. Take care to spend a good amount of time with your close ones too.
Now that you have understood why it is crucial to spend some lone time, in my upcoming post I will share some ideas on how to do this. Stay tuned.
(Visited 119 times, 1 visits today)